July 1, 2009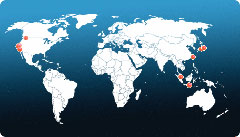 With summer now upon us and my travel plans mostly (or at least roughly) planned and booked, the time has come to embark on two months of hectic, and exciting, travel. This is also an excellent itinerary to really exercise my Jetwerk and see what the big experiment turns up.
[the picture is a snapshot from my actual Jetwerk homepage after entering all of my trips]
It is not unusual for our family to have complicated travel schedules, with some of the family off to one destination for summer events and others off in separate directions.
And so the planning begins: My wife embarks first on a trip with our two older children to Australia leaving me with our baby at home (Kyoto) for a few days before the two of us set off for Bali to all meet up the following week. At some point, I need to get back to Los Angeles for a couple of weeks of work in the main office, and while I am in the U.S., this is a good time to also take care of some other business there in the Bay Area and Spokane. Since my wife will have extra help from friends and family in Bali we figure that it should be manageable for me to spend about 3 weeks in the US, that this will be a reasonable compromise: not being away from the family -too- long and making sure I have enough time to get all the things done in the US that have to be done. Needless to say, 3 weeks away from the family is still a very long time! On the bright side, it's not bad to get the family to Bali for 2 months and still get to spend 1 of those months with them… no, not bad at all.
And after planning, plotting, searching, researching, booking, and rebooking, here's the trip list that finally ended up in Jetwerk.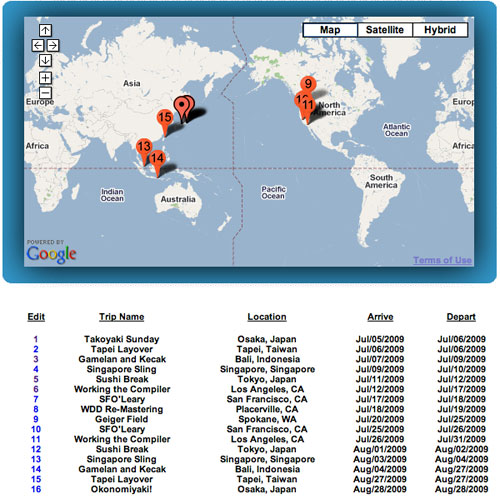 Typically, a complicated set of trips has (or should have) room for flexibility, some of these dates are rough estimates, some of the actual trips have yet to be solidly booked, but it is important to first know what you are planning to do… you can always edit your trips later, and I mostly likely will.
Ready for takeoff! Here we go: