December 20, 2009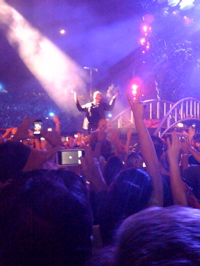 Why use
Jetwerk
? Well that's a good question, why would I want to know if a buddy was in the same town or even going to the same event as me? I will tell you why, because it's fun! Recently something happened where I wished my friend had been signed up in
Jetwerk
. And why am I calling it Reason #7? It seemed like a good number.
Not to long ago my wife and I went to see U2 at the Rosebowl. So a couple of weeks before the show I entered that concert in my Jetwerk. Not only is Jetwerk great for trips out of town but very handy when going to events in and out of town. Once I entered the date of the concert my friends in Jetwerk got the notice and some even emailed me wishing they were going.
We arrive early to the show to take in the tailgating and excitement of the pre-show activities. As we were walking across the field towards our section I see my friend Michael and his wife Donna up ahead. I'm not really surprised since Michael is a huge fan of U2 and the Edge. I do I wish I had known since we could have met up early and had some drinks before the show. But we do end up hanging out for a bit talking and it turns out Michael had just come back from 2 weeks in NYC working with his band the Low Millions. I had just come back from NYC. He was bummed wishing he had known. "Michael!!" almost screaming, " …this is why we have Jetwerk! This is why in sent you an invite so we would know ahead of time. We could have had a great hang in the big apple! "  Michael is currently is a member of Jetwerk.