August 29, 2009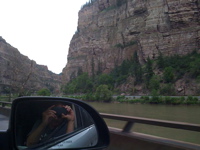 There are many ways to travel, and it's not always about rushing to the airport to get to your destination. There are times where one must take the car, yes the car, a good ole' road trip. Something about the getting in your car just before the sun comes up with a cup of coffee in the cup holder, the kids still half asleep. And stopping for pancakes a couple of hours away as the sun is coming up.
Having taken many road trips as a kid I felt it was time to let my kids have that same experience. Granted it wasn't easy convincing my daughter that the 2 day trip in a car was going to be as fun as taking the 2 hour plane trip, but gotta love the portable DVD dual screen for those long rides thru the desert. She still wants to take a plane on the next trip.
On this trip I decided instead of the ways of my dad of driving straight to our destination only to stop for bathroom breaks much like the Great Santini. I wanted to see a bit of the sights along the way, Zion and the Arches in Moad Utah.
Now the one thing that made this trip great was my new iphone! Sure it was fun to see where we were on the map, bookmark the hotel where we where staying. But the best part was finding coffee places and places to eat by using 2 apps called Vicinity and Yelp. God Bless those apps! The highlight was finding the one of the best sandwich places I have been to. The Love Muffin Café in Moad Utah. Made it easy to find our Mc D's iced coffees. Although not hard to miss with the glowing golden arches acting like homing devices to guiding the wayward travelers to a Big Mac.
Now the other fun we had with the iphone was my constant tweeting to let my family in Denver have a way to follow us on the trip. Of course afterwards realized if anyone outside my family was following us on twitter knew we were away could have stopped by the house and take what they needed. So I don't recommend doing that.
And of course my buddy Chris just happened to be passing thru Denver while we were there. How did I know, Jetwerk of course!