July 5, 2009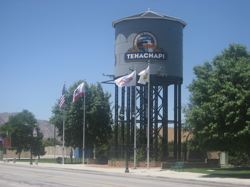 There are times when its good to just forget about having to plan a trip, book a flight and deal with travel itineraries. Sometimes all you need to do is jump in the car and drive. And that's exactly what I did with my family for the 4th of July weekend.
Now have you ever been to a 4th of July parade in a small town? Well we did this weekend in the town of Tehachapi California, population 11,000. Traveling sometimes doesn't always have to involve an airplane, and there are those times when a good road trip by car is needed.
We drove in on the afternoon of the 3rd where that evening was the monthly town party where everyone would gathered to see the paintings and sculptures of the local artists. There was also Mama Hilly Beans coffee shop which is a throwback to the 60's folk boom where you would find the locals discussing politics, drinking coffee and listening to acoustic music.
On the day of the 4th all the activities were centered in the main park where there was the pancake breakfast at 8 am in support of the local High School football team. It was the first time I would get my pancakes and sausage served with a group of guys yelling "BREAK" after each serving. Later there was a fiddle contest, face painting, popcorn, a wiener dog race and parade with 1/2 the town in it. I felt I had just stepped into a Norman Rockwell painting. The people in Tehachapi were genuine, when they smiled you knew they really meant it.
That is the beauty of traveling, the wonderful little surprise's that come out of a trip and the magic in those places. Now it's back to twittering, blogging, business travel, jetwerking, facebooking, …